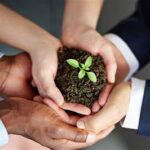 I used to have a very good friend. We used to do life together, going shopping together, talking to one another all the time, caring for one another, serving one another. It was a beautiful relationship, a good friend until something happened and tore the friendship apart. It can be contrasting to say that Growth means both subtraction and addition. Even multiplication and division are part of the mystery of growth.
The moment you engage into growing and increasing, something happens. I want to talk about your relationships. Whether it is in your education, career, or ministry relationships will come and go, some will add to your life, others will subtract to your life, and other ones will cause multiplication and even division; it is a mystery that is worth digging to understand and actually grow effectively.
Every growth, increase, blessing, curse, pain, and setback in one's life can be traced back to a relationship. Starting from the moment you are born, you consciously or unconsciously engage in relationships that would determine your life path. Your parents are those types of relationships you don't chose yet contribute tremendously to your growth. When they raise you it is always with the ultimate goal to see you grow. These same parents can happen to be the most toxic individuals in your life, preventing you to grow effectively. We pray you never find yourself being identified as such.
There are four different types of relationships.
Those who add.
Those who subtract.
Those who divide.
Those who multiply.
This month of may we will talk about those who add to your life and how you can become that person.
Those who add to your life are people who give their time, talents and treasure for you, not necessarily because they expect anything in return. Though It is crucial that you surround yourself with such people for it facilitates your growth it is more important that you become that person.
What can I do to become a person who add to one's life? 
The two most powerful warriors are patience and time.
Leo Tolstoy, War and Peace.
Last year I wrote a blog on time management and spoke about the fact that we are only allotted 24 hours everyday, therefore must use our time wisely. The time we have is a gift that we can waste. We have to be intentional on how we use the time God has given us.
I believe investing our time wisely will work in our favor by helping us grow. I also believe doing the right investment of our time will benefit others but us as well. I use my time mostly to serve people.  I serve in my local church. I have Intentionally allocated time to serve the young people of my congregation. I know the time I put in doing so is an investment and will have a good return. I advice you to give your time to become a person who add in another one' life.

Tips:
Plan slots with NO activities. ( don't fill your schedule with so many activities that there is no room for anything else)
Plan the unexpected. ( it can look weird to plan the unexpected, but it is better to do so. If nothing happens you can always use that time to rest , you are investing in yourself or chose to give that time to a new person.
2. I Share My Experience and Knowledge
We make a living by what we get. We make a life by what we give.

Winston Churchill
You will never believe how much knowledge and experience you have combined once you start sharing. When you grow to be an adult there is certainly lots of knowledge and experience you acquire that can be beneficial for younger generations. Too many young people lack the knowledge and experience they can easily get from you because you are around them. I teach classes online and answer questions on social media every week to edify young men and women. I have made a class available online to allow them to educate, to avoid mistakes and to make better choices in their lives.
Check the ressources available on my website to be inspired by my personal experience. Go to www.extravagantgracebook.com and you will find some free courses on dating, love and relationships for example. My goal is to
Change the mindset of the young adults.
Help them embrace the season they are in life.
Help them make good choices.
One may ask where my gain is; I have realized that when I give to others especially those who need that knowledge the most, I create a win-win situation. I win and they win also. These young men and women become better, make good choices and this pleases my heart. The work I put into it, the investment , the research causes me to better understand the topic and raise leaders who in turn will learn from me and teach others. You Share knowledge and experience by empowering others and this creates a more significant impact.

3. I Give gifts
Don't judge each day by the harvest you reap, but by the seeds you plant.

Robert Louis Stevenson
Giving is one great way of showing people that we care. Somebody is always in need of something you can gladly give if you reflect on it. Many researchers have demonstrated that giving is good for us. There is a saying that generosity is its own reward. This saying speaks volume because if you look around you , you will realize that those who give are happier. Happiness is valuable in this stressful life; anybody will pay to have it. The Cleveland clinic recently reported that donating to charity or volunteering has measurable physical and mental health benefits. Some Studies show that those who give of themselves can have lower blood pressure and stress levels, fewer incidences of depression, higher self esteem, and even a longer life.
This one here has a wow effect. If I will live longer and be healthier because I gave; why not?

4. I encourage
I've missed more than 9000 shots in my career. I've lost almost 300 games. 26 times I've been trusted to take the game winning shot and missed. I've failed over and over and over again in my life. And that is why I succeed.

Michael Jordan
Make it a priority to encourage others. I have made it easy for you and have put together a list of phrases you could use to encourage others. Refer to this list if you ever run out of inspiration.
Hang in there.
Don't give up.
Keep pushing.
Keep fighting!
Stay strong.
Never give up.
Never say 'die'.
Come on! You can do it!
Give it a try.
Go for it.
Why not?
It's worth a shot.
What are you waiting for?
What do you have to lose?
You might as well.
Just do it!
There you go!
Keep up the good work.
Keep it up.
Good job.
I'm so proud of you!
I'll support you either way.
I'm behind you 100%.
It's totally up to you.
It's your call.
5. I show that I care
Never be so busy as not to think of others

Mother Theresa
There are easy and common ways to show that you care
Say Thank you.
Apologize.
Forgive.
Call just to check on someone.
Write a letter.
Serve someone.
Surround yourself with people who make you happy, people who make you laugh, who help you when you're in need. People who genuinely care. They are the ones worth keeping in your life. Everyone else is just passing through.

Karl Marx